N95/PPE Updates – April 3, 2020
April 3, 2020
N95s
Your N95 mask should be worn until it is deemed dirty or damaged
Staff are expected to UV disinfect their mask once a day or after taking care of a COVID- 19 Positive patient or PUI (person under investigation). Disinfection stations are located at the front desk and anesthesia workroom
N95 masks may be cleaned up to 5 times. This means your mask may last up to 5 days.
PPE: Mandatory Universal Masking in All Patient Care Spaces Including Inpatient/ED/OBs/Clinics/and Procedural Areas
We now have the ear-looped masks at the front desk to distribute to our ancillary staff to wear when they are in a non-OR patient care area.
Each staff member may have one ear looped mask/day.
We are considering the IPP platform a patient care area.
These cannot be worn in the OR – they are not surgical masks.
Staff in close contact with a patient or visitor greater than 15 minutes at a distance of less than 6 feet should wear an ear loop mask/ surgical mask for clinical staff is acceptable as well.
For those staff who are wearing the Olympus sub shields
The ones in the photo below contain latex in the headband.
We are in the process of obtaining non-latex shields.
If you need a non-latex shield please reach out to Emily Sanfelippo  – supply chain
Olympus Sub Shield (contain latex):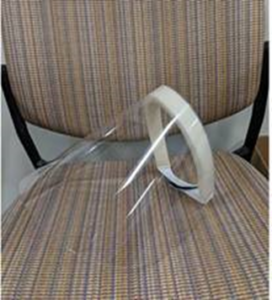 Halyard Shield (latex free):