N95 Masks for Intubations
March 13, 2020
In order to help ensure your safety, there now are N95 masks in each of the code bags. We have stocked (in a zippered pouch) 2 small and 3 regular sized N95 masks. Most of you have been fit-tested at some point. There are a couple of points to remember:
If you are called to intubate a patient that is being tested for COVID 19 or is positive for COVID 19, please wear an N95 mask. Test it to make sure that you are not getting air in around the mask when you breath in and out.
Remember to wear eye protection. You should at all times, anyway, but in these cases it is imperative.
Use a double glove technique and immediately glove the laryngoscope blade after intubation. It needs to be processed appropriately.
Don't plan on an awake intubation unless absolutely necessary.
Please try to conserve the masks as we currently have a limited supply. Use only when there is an indication and only for those in whom their presence is necessary.
The following is an infographic from APSF: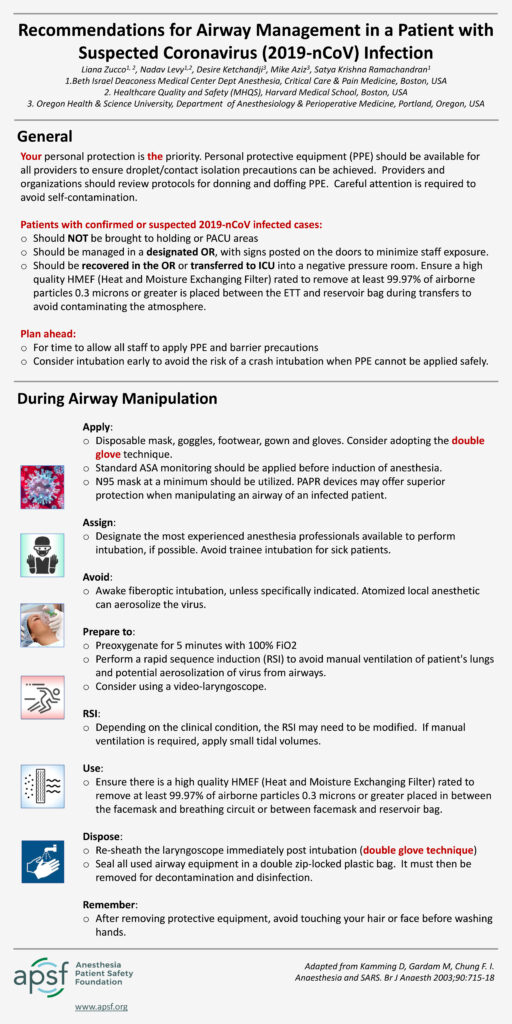 N95 Mask Fittings
Once you have obtained your N95 mask and have completed your fit testing, please drop your yellow record slip in the folder marked "N95 Record" in the bin outside Noell Buelow's office door.  These slips will then be scanned and a copy will be kept in your Faculty Folder.
Thanks and be safe!